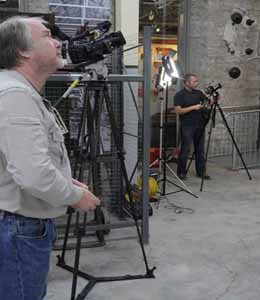 High Mill, Dundee
Verdant Works new area
Client: Campbell & Co
An A listed building, The High Mill was one of the first buildings to be built at Verdant Works in 1833. Working with Pixelstag and Wavetek, SIAV managed the content for film archive and oral history productions. Researching and directing the selection of appropriate archive film & stills material to create selectable interactive choices of material. An ambient soundtrack of local voices and sounds was created to evoke the industrial atmosphere in the mill building.
A Boulton & Watt steam engine, similar to one which would have originally provided the power for the mill has been re-constructed and forms a centre piece as a working model - albeit electrically powered now.
SIAV & crew from Mirage TV filmed the specific and specialist works of the engine and provided detailed clips for the construction of an informative interactive programme.
The opening of the High Mill was on 9th March 2016.
---
Media...
Recording voices High Mill

Click image to enlarge

Boulton & Watt Engine

Click image to enlarge

Interactive

Click image to enlarge

Interactive selected

Click image to enlarge