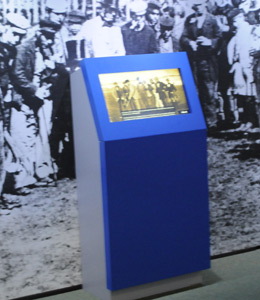 The British Golf Museum
5 interactive programmes
Client: British Golf Museum
Located at the Home of Golf in St Andrews, the British Golf Museum had a requirement to make more of their artefacts & collections accessible to the public other than simply on display in cases and graphic panels.
Working with designers Ross Associates and the Museum curators, SIAV and Pixelstag designed, produced and created 5 new interactive programmes. The origins of Golf Clubs in far flung corners of the globe were explored, an interactive quiz on the attributes of the 'stars' of the vast trophy collections throws up interesting facts. Visitors are invited to create their own 'legal' golf club............approved by the R&A rules or find out about some of the early club & ball makers working in St Andrews.
The costume collection is featured in an interactive which allows the visitor to design their own front cover for a golf magazine, selecting era, feature stories and then taking a photo of themselves to insert as guest editor before emailing it home -to anywhere in the world, by all accounts proving very popular!
In 2015 Campbell & Co commissioned a film for the new entrance hall exhibition, and SIAV created a compilation of golfing images & films from throughout the history of golf, featuring some of the famous faces & special moments accompanied by a specially created sound effects track.
http://www.britishgolfmuseum.co.uk/
---
Media...
Club & Ball Makers 1

Click image to enlarge

Club & Ball makers 2

Click image to enlarge

Your Golf Magazine

Click image to enlarge

Design a club 1

Click image to enlarge

Design a club 2

Click image to enlarge

Treasures quiz 1

Click image to enlarge

Worldwide Golf Clubs

Click image to enlarge