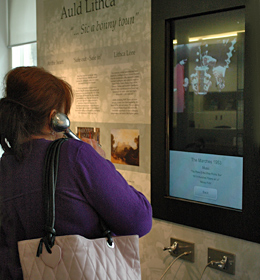 Linlithgow Burgh Halls
Video, interactive touchscreen and multimedia programmes
Client: West Lothian Council
The Town Hall at Linlithgow dates from around 1300 and has been the centre of civic and social life in the Burgh since.
SIAV was the interpretive planning lead on this project, from the first stage of producing a wrap for the building during construction, through research and storyline development to the installation and final commissioning of the system.
The new heritage area features video charting the history of the halls through maps, images & documents, public web access for tourist and heritage information and a 37" portrait format touchscreen presenting the social history in archive film and images, music, poetry, song and more.
The programme styling has been designed in tandem with graphic interpretive walls into which the monitors are set.
Link to Linlithgow Burgh Halls
Link to Malcolm Fraser Architects
---
Media...
Graphic panel

Click image to enlarge

Inset video monitor

Click image to enlarge

Web access kiosks

Click image to enlarge

Screen grab from video

Click image to enlarge

Linlithgow Burgh Halls exterior

Click image to enlarge

Linlithgow Burgh Halls interior

Click image to enlarge

Linlithgow Burgh Halls wrap

Click image to enlarge